Sven was born on 28th of March 1952 in the small village of Skärblacka, Sweden. His father was Swedish and his mother was Finnish – she had moved to Sweden for work from Finland some years earlier. Later the family moved to Ställdalen, where Svens brother Ingvar was born in 1958. When Sven was ten years old, his mother left their home, deserting the two young boys – she suffered from severe mental problems. After Svens mother had left the family, the father very soon remarried, bringing a new wife and her child to the family. Sven and his brother abruptly got a stepmother and a stepbrother. The relations to them never really warmed. The most important and loving person in Svens childhood was his grandmother, who lived far away from Ställdalen, back in Skärblacka.
Svens brother Ingvar played music as well, but not in the same professional manner as Sven. The two brothers were never really close. Ingvar lost his life to drugs when he was 39 years old. Sven felt guilty for the loss of his brother till the end of his life. These childhood experiences and later, the loss of his brother, had a lasting impact on Svens personality and undoubtfully influenced his artistry, also partly explaining the depth of his blues.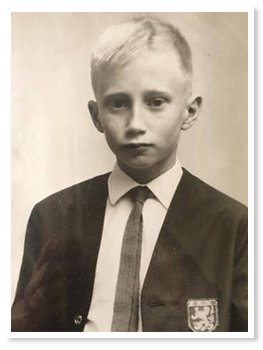 Sven, 10 years old (Svens home archives)
Sven fell in love with rhytm music while still a young boy. He had heard Elvis and Little Richard on the radio and was totally smitten by their performances, by the expression of this music. Svens first instrument was the harmonica, which he started playing at the age of twelve. The discovery of the blues for Sven happened through the radioprogram series "I Blueskvarter" ("In the Bluesquarters") by Olle Helander in 1965. Sven told later in an interview: "I was sitting in the cellar of our house in Ställdalen and listening to my transistor radio. –The hair on my head stood up when I realized that it was the harp I was listening to! Big Walters harp playing and a lot of the other artists' music changed my life for ever".
In the beginning of his career Sven played the harp and sang. The first real bands of his were formed during the years when Sven lived in Södertälje – he had moved to Södertälje to do his military service. Södertälje is a small town located a half an hours ride from the capitol of Sweden, Stockholm. Södertälje had a lively music scene in the 1970's and Sven soon made friends with the blueslovers and musicians of the town. The band Telge Blues was formed by Sven, who played the harp and sang, Anders Gutke (guitar and song), Kenneth Pettersson (base) ja Stefan Sundlöf (drums). Guitar player Hank Jansson joined the band later. Telge Blues got a remarkable amount of fans in a short time and was soon well known in Stockholm as well, gigging in the capitols many venues. From almost the very beginning of its existence Telge Blues also backed the American blues artists that were visiting Sweden. Telge Blues published their one record in 1975 by Philips Record Company. Telge Blues was active during the years 1972-1976.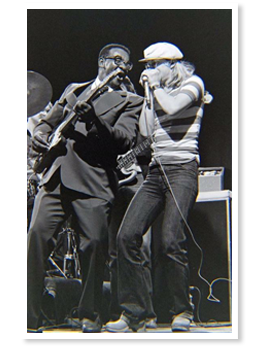 Sven with the American Blues artist Lonesome Sundown, in 1977 (Svens home archives)
Sven started playing the electric guitar only after Telge Blues had broken down, at the age of twenty four. He learned the guitar with such intensity, that already the same year (1976) he, playing with a band called The Bluesrockers, backed the American blues legend Muddy Waters in his concert in Stockholm. Svens next own band after Telge Blues was called Blue Fire, he started it with Stefan Sundlöf. The other band members were Janne Sjöström (harp), Jonne Östman (guitar) and Bertil Pettersson (base). In this constellation Sven answered for the lead guitar and song. Blue Fire made a name for itself, but never became as popular as Telge Blues had been. Blue Fire did publish one record before it broke down. Already during this time of his career (in 1979) Sven visited Chicago, playing at the bluesclubs with local bluesveterans.
In 1981 Sven was contacted by the Norwegian guitarist Knut Reiersrud – he suggested Sven they'd form a band together. The band they started, Four Roosters, was soon a big name in both Norway and Sweden. Those years were the beginning of the love the Norwegian blues audiences have for Sven. Sven visited Norway several times a year with the bands and constellations he had later as well. The band members of the Four Roosters were Sven (guitar and song), Knut (guitar and song), Carsten Loly (drums) and base players Bertil Pettersson and Jan-Erik Salater.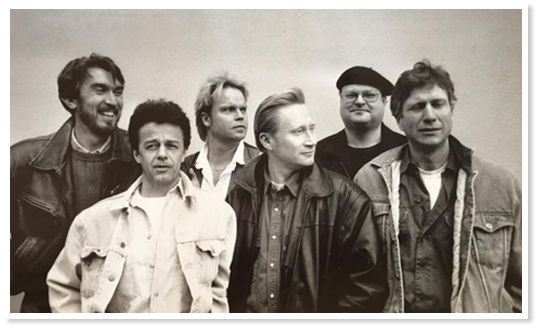 Chicago Express (Svens home archives)
After Four Roosters Sven formed the band Chicago Express with his old band comrades Stefan Sundlöf, Hank Jansson, Janne Sjöström and Bertil Pettersson, in addition of keyboardist Jaan Paltman. Chicago Express was the band with which Sven was to become the number one blues artist in Sweden. Chicago Express toured the land and was loved as well by the audiences as by the critics – they got the best reviews all over. During Sweden. During the time of this band, in 1989, Sven was personally awarded with the highly respected Cornelis Vreeswijk-prize. Chicago Express published altogether four records during the years 1984-1999.
Sven started his solo career in 1999, performing and recording with varying constellations, always with the top blues musicians of Sweden. Two of Svens first records during his solo career – Blues from Within and Let Me Get Over It – were both nominated for the Swedish Grammy. On the latter record Sven widened his repertoar from direct blues towards soul music, which opened him as artist for new audiences. Sven was ever eager to be better and better in his craft, he never ceased to practice and was always learning new skills in guitar and harp. During the solo years he wrote a lot of original music, either by himself or in co-operation with other musicians – many gems were written in co-operation with guitarist-composer Anders Lewén. Svens own band during his last years – Sven Zetterberg Blues Band – consisted of Sven (song and solo guitar) with the remarkable musicians Anders Lewén or Thomas Hammarlund (guitar), Mikael Fahleryd (base), Jim Ingvarsson (drums) and Matti Ollikainen or Calle Brickman (keyboards). The other constellation that Sven played regularly with, and had played with for years, was Sven Zetterberg Trio – it was with his band comrades for over forty years, Hank Jansson (guitar) and Stefan Sundlöf (drums).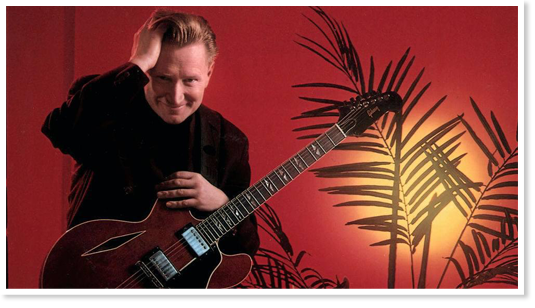 From the cover of the record Blues From Within (Photo©Cathrine Edvall)
In the beginning of his career as musician Sven worked for the Swedish Postal service as a delivery van driver. He left the job in 1985, during the growing success of Chicago Express, wanting to dedicate his time and talent to music. As a full time musician Sven toured regularly throughout Scandinavia and was practically every year one of the main attractions on one or more of the popular Scandinavian Blues Festivals. He was well known in the European blues scene and one of the very few European blues artists that was highly appreciated and respected in the the U.S. blues circles as well. In his private life Sven was modest and outside music often unpractical. Sven would certainly have deserved an even bigger international break-through and many who followed his career have said that that would have happened if Sven would have had a professional manager promoting him. The idea of a manager was just not at all familiar to Sven – there was shyness to him that stood against promoting his career in that manner. When performing, on stage, Sven was undeniably the king – he ruled the space, the audiences, the band, his song and his instruments sovereignly. In the studio and amongst his fellow musicians he was extremely appreciated, his knowledge of the blues and his own style were unique. He was adored by his audiences – his performances were raw and authentic, he put his heart out in his music as very few dare to do. His closest fellow musicians were as a family to him. One of Svens friends and fellow musicians has said about him: " Sven was a rarely great artist, a little big human being, full of contradictions. He was egocentric, overdramatizing, sensitive and unbelievably emphatetic all at the same time."
Svens passion for the blues was lifelong. He listened to and experienced that music daily – played, sang and expressed himself through the blues. He wanted to spread knowledge of the blues, was always interested in the doings of his fellow musicians, discussed, commented and kept in touch. Sven was an inspiration for the younger blues players in Sweden and Scandinavia. One can surely say that a part of Svens musical heritage is the love and interest for the blues in Scandinavia – it is something that he left behind by his example and personality.
Sven was at the peak of his career when his life abruptly ended (December 21st 2016). Bo Majling, the leading blues journalist in Sweden wrote in his obituary of Sven: "Sven's guitar, harp and voice can not be replaced. He was unique. The loss is infinite. Swedens soul and blues scene will never be the same again."